Welcome to the Home of Success, Sanity &
Stilettos!
Want more Biz
tips and strategy

delivered straight to your inbox?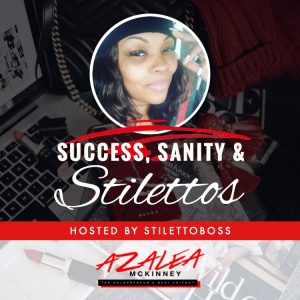 This podcast is a whole VIBE for me. As a matter of fact, calling it  a podcast didn't feel "quite" right either. I think I'm going to call it an AUDIO EXPERIENCE.
Joining me on this journey, this is what you'll get; For starters, I'll totally be doing the usual podcast thing and having ROCKSTAR guests on my show – but this is also a special space in the sense it's dedicated to allowing me to go more in more depth about the topics I discuss in my blog and the BTS about starting, growing and building a business.
This space is going to evolve and grow based on YOUR feedback and I always want to make sure I'm serving you the best I can on this journey!  Podcast available on all platforms.
PODCASTS
Poor money management has been the cause of more business failures than any other single issue. And it's no wonder. We aren't born knowing how to manage money. Most of us aren't taught how to handle it either. We figure it out along the way, through much trial and error.
Read More »
PODCASTS
Azalea McKinney is a coach & consultant who works with women entrepreneurs at the beginning of their entrepreneurial journey helping them to create the business of their dreams and the lifestyle they desire.
This weekly podcast is a labor of love for those interested in getting their seatbelts tucked in for this entrepreneurial roller coaster.
Read More »